Helping businesses remain compliant in an ever more complex world
Are you responsible for navigating complex tax reporting and regulatory requirements for your business? Do you need expert help managing those challenges? Could tax automation transform your productivity? You are probably juggling the growing demands of regulators, in terms of the breadth of regulations and the quality of tax data, with the risk appetite of your Board or Audit Committee.
Finance and tax functions will be acutely aware of the ever-increasing pressure to stay on top of legislative change and the need to embed change management into every aspect of day-to-day work. Nor is there any prospect of regulatory pressure reducing or becoming less complex.
You may also be aware of the continuing shift towards real time reporting for management information, stakeholder reporting and particularly from tax authorities. This is driving a need for better quality data to be available "on demand" without intense analysis work.
You will probably be asking yourself how to better manage your regulatory obligations and remain compliant while focusing on how your tax and finance teams can add value.
How we will help you
We will work with you to collaboratively design optimised tax processes focussed on the extraction, transformation, and automation of data. That is what you need to drive accurate and complete tax calculations. It will also lead to the enhancement of systems to improve and de-risk reporting obligations.
We are experienced specialists who have come together with one objective, to make your tax function better. We combine a strong knowledge of leading and emerging tax automation technologies with our best practice templates and deep tax technical knowledge. All the members of the team have extensive tax technical, tax technology and process-driven backgrounds. Our real-world experiences advising companies around the world enable us to provide you with practical solutions used by leading companies throughout the world.
Reviewing your existing tax systems
Our team starts with existing systems and looks for opportunities to maximise the return on investment and ensure tax is seamlessly embedded in broader finance processes. This can include everything from configuration of your existing ERP and EPM systems to the development of strategic objectives right through to operating model design, implementation, and review.
Implementing the tax technology market
We continuously review the latest trends, products, and developments so we can advise you on which technology will make your business more efficient and your life easier. As a full-service firm, we help you select, implement, and support the right solution. As an independent firm, we are ideally placed to offer insight and expertise on what technology will be like to work with, and which 3rd party provider will work best for you. We take a holistic approach to create a connected tax technology ecosystem.
Enhancing and improving via targeted automation
Small automation or targeted automation makes a significant difference to everyday activities by using the latest software to enhance and improve your existing processes. Be it using RPA, AI, Data Wrangling, or other software to find a better way.
Our specific tax technology services
Our services include:
Tax process assessment & design
Tax data assessment & tax data solutions
Tax technology implementation & optimisation
Tax workflow & documentation
Training & assistance
Survey: How was your Year-End?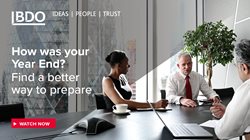 Webinar Series: Tax Automation & Innovation
The art of the possible, how can tax technology help you.