Is your organisation struggling to recruit and retain the top talent you need? Are you looking to drive a more sustainable strategy and looking to incorporate ESG measures into your incentive plans? Are you grappling with the recent EU Pay Transparency Directive?
With competitive salaries and comprehensive benefit packages a given, the most successful employers are delivering a differentiated employee experience and are embracing a Total Reward mindset.
You can work with our Strategic Reward Advisory team to assess and enhance your reward model as well as design and deliver an effective reward strategy that supports the long-term success of your business or organisation. You see the range of our strategic reward services here.
Our approach to Strategic Reward
A successful approach to reward drives the right behaviours and outcomes. We combine the use of data analytics and our innovative thinking on reward to help you design, implement and optimise your approach to reward:
Your organisation, business context and business strategy are the starting point for our advice. We invest time to understand your challenges and goals so the advice you receive is always tailored and translates your aspirations into actions
Your business stakeholders will be key to the successful delivery of your reward framework. We will help you build a consensus around your plans by developing a compelling narrative that demonstrates how those plans contribute to overall business success
Our tools, benchmarks and insights will support the development of your reward framework as well as quickly identify key issues
We are remuneration specialists with complementary tax, legal and regulatory expertise so you can work with a single advisor to guide you through design, implementation and operation of your reward framework
We work with clients in all sectors and industries. Our clients include publicly listed and private organisations in the UK and globally. As well as working on reward frameworks and strategic rewards, we advise our clients on strategic people issues and challenges during periods of disruption or transformation such as corporate transactions and IPOs.
Our Strategic Reward Services
Services

Details

Strategic reward reviews

The analysis, evaluation and design of your organisation's executive and broad-based approach to total reward and how it supports and drives your culture and business strategy.

Quantum and mix of pay

Advice on appropriate overall quantum and mix of pay (short term vs long term/fixed vs variable) to align with your overall reward policy and approach

Job evaluation and grading

A key tool in enabling the delivery of reward projects, job evaluation and grading enables us to 'value' roles to provide structure and hierarchy to support your operating model

Incentive design and link to performance

Creating incentives with a transparent link to performance using measures aligned with your organisation's value drivers and strategic aims




Governance & regulation

Ensuring you are integrating Inclusion and Diversity considerations in pay decisions and addressing any pay equality, transparency and gender pay gap issues. This support investor and stakeholder relations and reporting compliances on Directors' Remuneration reporting among others

Financial Services remuneration regulation

Ensure Financial Services remuneration regulation compliance and designing a remuneration structure which supports and drives your business strategy and culture.

Valuation and measurement

Measurement of performance for pay-outs and Modelling returns and costing proposals for P&L, dilution and cash movement purposes

Wellbeing

The creation of physical, mental, financial and social wellbeing strategies for your organisation and people
Your Employee Value Proposition and Total Reward
Your organisation has an Employee Value Proposition, or Employee Deal, whether you realise it or not. Your Employee Value Proposition comprises "everything" an employee gets in return for providing their labour. Every pay cheque, every benefit or perk, every "thank you" and even social media interactions – all of these contribute to your organisation's Employee Value Proposition in some way.
Companies with poorly articulated Employee Deal often find themselves having to pay at the top of the market or deploy retention or joining bonuses with frequency. So, organisations should take extreme care to define their Employee Deal and work to improve it. To do this, companies should address four fundamental questions:
What makes an organisation the place to be?
How can organisations ensure their reward framework is fit for purpose?
What is the role of career progression in the organisation?
How can an organisation craft an Employee Deal which is future proof and flexible with respect to external developments?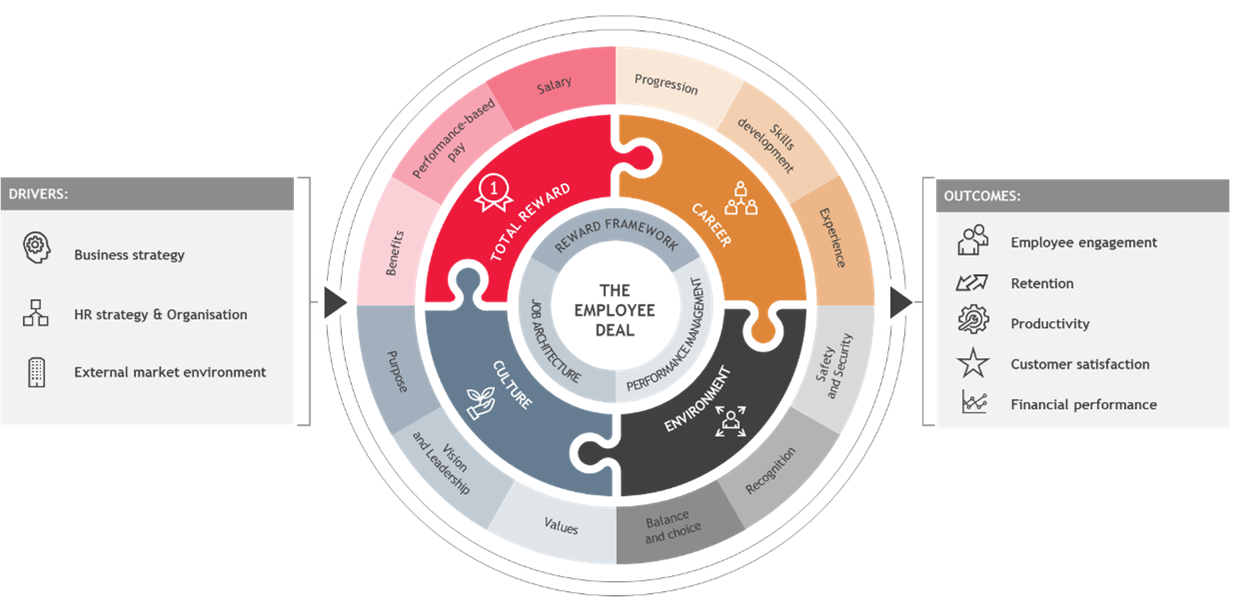 The key is to understand it, and then manage it purposively, using data to inform and evidence progress. A compelling Employee Value Proposition will give your organisation a competitive advantage and save you money.